Dare's up
!! and what a fabulous one it is too :)
Tracie (Bondgirl)'s
amazing challenge to us all went a little something like this...
'Dont worry this weeks dare is an easy one! I want you guys to create a card which must incorporate another Language! See easy peasy huh? and sooo many choices.'
Hmmmm easy eh? Actually not too bad once I had a think about it...
Here are my cards...
Played around with fonts for this one, using the language of gamers,
'leet'
, main greeting is 'Pwnage' using
hair of the dog
font. I used dingbats for the symbols - face is
Eller
font, Gameboy is
Tombats 6
font and Skull is
Skullbearer AOE
font, all printed, cut out with a circle punch and mounted using 3D foam pads. Printed 'Happy Birthday' using
Bookworm
font and added behing the main card blank on the bottom right to complete it.
Second card, using fonts again, slightly more sensible :) I used different fonts to create the word 'hi' in Japanese, Chinese, Greek, French, Spanish, Korean, Italian and English. I printed these on to a strip of Bazill card, layered it onto contrasting card and hand stitched it to the card blank.
The frame is just cut out and then coloured with pen to make stripes and the 'Hi' was made using
cafe rojo
font - I created the word with WordArt, filled in the colour and the superimposed a text box filled with the word 'hi' in different languages to create the background effect on the word...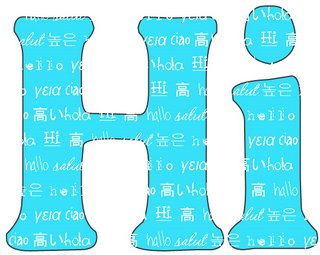 Cut out, inked edges, stuck to card with foam pads and added an angel kiss flower with a brad to complete it :)
The other amazing cards that have been created by the Design Team are
here
...Can't wait to see what you come up with this week :)